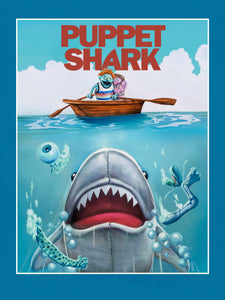 Puppet Shark Blu-ray
Regular price $29.95 $19.95 Sale
NOW SHIPPING! All posters are gone for this title.
An all-puppet cast! When two boys venture into the nearby woods on a lakeside camping trip, they soon realize they have entered the territory of a rare lake shark with possibly supernatural properties. Campire tales help them unravel the mystery surrounding this mysterious legend. Hippies, marshmallows, independent film crews, dentists and mermaids - no one is safe from the wrath of the PUPPET SHARK! From the loonies behind "Jurassic Shark", "Raiders of the Lost Shark" and "Ouija Shark"!
Extras:
-Commentary track
-Trailer
-MusicVideo
-SRS Trailers
-And more!
-PLEASE note the expected shipping estimate before emailing us about the status of your order.
-COMBO order save money but will not ship until all items are in stock.
-PRE-ORDERS can NOT be cancelled once placed due to our fulfillment system.
-PLEASE NOTE in case of defective discs, mis-shipments or for any reason, we may need the original item back to issue a replacement. You, the buyer, agree to return the item if we request - at our cost - in order to get a replacement.
-POSTERS when applicable are provided free of charge. They are not replaced due to damage or if missing. They can run out without warning. Poster is shipped folded with the media, however you can get it sent rolled in a tube (or shipped rolled in a large box at our discretion) by selecting it from the dr
op down menu.


This release is on professionally burned and labeled BD-R's, and is limited to 200 units. 


PLEASE FOLLOW OUR PATREON
PLEASE LIKE AND FOLLOW US ON SOCIAL MEDIA
SRS Cinema LLC
tiktok.com/@srscinemallc
snapchat.com/add/srscinema