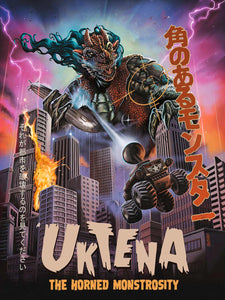 Uktena: The Horned Monstrosity Blu-ray
Regular price $29.95 $19.95 Sale
Based on the Native American myth of the "Horned Serpent", Uktena is unleashed on the modern world by man's lust and desire for riches and power. Eighty feet tall, 200 tons of rage and fury, the great beast rains down death and destruction on everything in its path. Can a Scientist, a Lawman and a Professor find the answer to stop the monster? 
Inspired by the Kaiju/Big Monster movies of the 50s/60s! Suitmation monster acting at its best. 
Extras:
-Trailer
-Blooper reel
-"Making A Monster" reel
-Harmonica duet clip
-SRS trailers
-Kaiju trailers 
87 minutes
COLOR
16:9
1080 HD
2021
English
Region 0
-PLEASE note the expected shipping estimate before emailing us about the status of your order.
-COMBO order save money but will not ship until all items are in stock.
-PRE-ORDERS can NOT be cancelled once placed due to our fulfillment system.
-POSTERS when applicable are provided free of charge. They are not replaced due to damage or if missing. They can run out without warning. Poster is shipped folded with the media, however you can get it sent rolled in a tube (or shipped rolled in a large box at our discretion) 
HERE
. 
Now shipping. This release is limited to 300 units on professionally run BD-R's.
PLEASE FOLLOW OUR PATREON
PLEASE LIKE AND FOLLOW US ON SOCIAL MEDIA
SRS Cinema LLC
tiktok.com/@srscinemallc
snapchat.com/add/srscinema