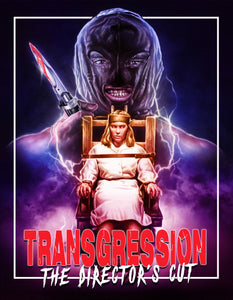 Transgression: The Director's Cut Blu-ray
Regular price $29.95 $19.95 Sale
TV reporter Mary Selby wanted to get inside the mind of a serial killer...now she can't get out. Transgression is a bleak, subversive, character-driven, psychological drama that explores the extremes in human behavior.

Driven and neurotic, Mary wanted more than to just report the story of a local serial killer, she wanted to understand the compulsions that drove him; so she consulted psychiatrist Dr. Andre Zarem. 
Immediately after utilizing her new insights in her newscasts, Mary is contacted by the killer and despite the objections of her police detective/boyfriend, Mary becomes the only link between the killer and authorities.
Mary is taken hostage in a daringly executed kidnapping by the killer, who subjects her to an intense series of sadistic mind games that forever change her life and culminates in the ultimate transgression.
"I've seen so many slasher flicks that not much bothers me anymore. These scenes BOTHER ME. My kinda flick". - Four stars. Joe Bob says check it out. Joe Bob's Drive-In New York Times Syndicate June 30, 1996
"it's DiPaolo's atmospheric, in-your-face direction that puts this slasher pic several notches above the usual, generic fare. At its best, it achieves a brutal, Abel Ferrara-esque honesty, as well as a willingness to confront the darkest niches of human behavior." -Shock Cinema - Number 7 - Steve Puchalski
"A morally complex tale, Transgression creates a genuinely creepy aura without resorting to gratuitous gore or conventional suspense." -Phantom of the Movies  New York Daily News - March 30, 1994
"It's just the intelligent kind of shot in the ass that the horror genre needs. If you can find it watch it. You won't be sorry. 
"  -Draculina - #19 Spring 1994 - Jay Bliznick 
"Gruesome, morbid fare, not helped by a cumbersome flashback narrative structure and absurd religious imagery, but gritty and compelling in its way." - Sight and Sound - January 1996
Extras:
-Making of
-Commentary
-Trailer
-SRS Trailers
-PLEASE note the expected shipping estimate before emailing us about the status of your order.
-COMBO order save money but will not ship until all items are in stock.
-PRE-ORDERS can NOT be cancelled once placed due to our fulfillment system.
-POSTERS when applicable are provided free of charge. They are not replaced due to damage or if missing. They can run out without warning. Poster is shipped folded with the media, however you can get it sent rolled in a tube (or shipped rolled in a large box at our discretion) 
HERE
. 

Now shipping. This release is limited to 100 units on professionally run BD-R's.