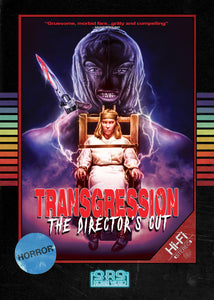 Transgression Retro DVD
Regular price $14.95 $9.95 Sale
Another SRS Retro Release! TV reporter Mary Selby wanted to get inside the mind of a serial killer...now she can't get out. Transgression is a bleak, subversive, character-driven, psychological drama that explores the extremes in human behavior.

Driven and neurotic, Mary wanted more than to just report the story of a local serial killer, she wanted to understand the compulsions that drove him; so she consulted psychiatrist Dr. Andre Zarem.

Immediately after utilizing her new insights in her newscasts, Mary is contacted by the killer and despite the objections of her police detective/boyfriend, Mary becomes the only link between the killer and authorities.

Mary is taken hostage in a daringly executed kidnapping by the killer, who subjects her to an intense series of sadistic mind games that forever change her life and culminates in the ultimate transgression.