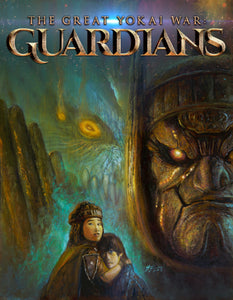 Great Yokai War: Guardians, The, Blu-ray
Regular price $39.95 $24.95 Sale
This is a PRE-ORDER title and will show as sold out until Thursday, 10/05/23 at 7pm EST. 
Please note the expected shipping date of late Jan 2024

. Then give us about 2 weeks after that to get all pre-orders in the mail. We will not be responding to 

inquiries
 on order status until 2 weeks after the estimated ship date has passed. Thanks!


In the year 20xx, cities located along the Fossa Magna, a fault runs from north to south across the Japan island, are destroyed by what it appears to be a storm or an earthquake. The route of the destruction points towards Tokyo.

Meanwhile, in Beijing, Yokai from around the world come together for an international conference known at the "Yummit". They discover that Yokai monsters formed from ancient underwater fossils have combined into one giant Yokai and are moving toward the Pacific Ocean... an act that could lead to mass destruction. Human beings cannot see them and are therefore unaware of the threat, but the underworld, which cohabits with the human world, is also in danger of being destroyed. The Japanese Yokai are asked to handle the situation and two leaders of that group, Nurarihyon and Inugami Gyobui, step up to take matters into their own hands.

The Yokai decide to revive the legendary God of War Bushin to confront the Yokai monsters. However, to bring Bushin back, they will need help from a descendent of the ancient Yokai hunter, Tsuna Watanabe. They find a schoolboy named Kei and his younger brother Dai. The two youngsters have often played at tests of courage, but now destiny has chosen them for a great adventure...

From legendary director Takashi Miike. In Japanese with English Subtitles. FIRST TIME EVER RELEASE IN NORTH AMERICA! Region A only.

Extras (tentative):
-Making of
-Trailer
-English subtitles
-SRS Trailers
-Optional limited edition O- Card (Slip)

-Eugene's Thoughts On The Yokai Film Series, And Daimajin Movie Trilogy.
-And more!

-PLEASE note the expected shipping estimate before emailing us about the status of your order.
-COMBO order save money but will not ship until all items are in stock.
-PRE-ORDERS can NOT be cancelled once placed due to our fulfillment system.
-PLEASE NOTE in case of defective discs, mis-shipments or for any reason, we may need the original item back to issue a replacement. You, the buyer, agree to return the item if we request - at our cost - in order to get a replacement.
-POSTERS when applicable are provided free of charge. They are not replaced due to damage or if missing. They can run out without warning. Poster is shipped folded with the media, however you can get it sent rolled in a tube (or shipped rolled in a large
r
 box
,
 at our discretion) by selecting it from the dr
op down menu. If you order the rolled poster option for one title, then we will include up to 3 more rolled posters free of charge, as poster stock permits, with priority given to the newest titles. If you order multiple rolled posters, then we will ship them individually rolled (no refunds if you order multiple rolled posters). 


Pre-sales start 
Thursday 10
/
05
/23 7pm EST and will show as sold out until then. Copies are expected to ship around late
 Jan 
2024. 
This release is on professionally pressed BD's, and is limited to 2000 units ever.