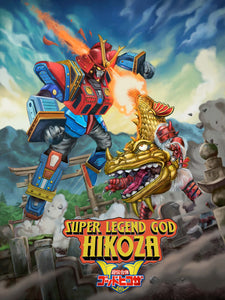 Super Legend God Hikoza Blu-Ray
Regular price $29.95 $19.95 Sale
Tadao and Takaho are two scientists from an Ultra-spatial research center who discover a mecha emitting an alarm signal: a giant, monster sturgeon is approaching. This roller-coaster ride includes a love story, kaijus, mad scientists, and humanoid robots, all seasoned with big absurd humor and action packed battle scenes. From Minoru Kawasaki, director of "Monster Seafood Wars".
Extras:
-English Subtitles
-Making of
-Trailer
-SRS Trailer
-And more!
-PLEASE note the expected shipping estimate before emailing us about the status of your order.
-COMBO order save money but will not ship until all items are in stock.
-PRE-ORDERS can NOT be cancelled once placed due to our fulfillment system.
-PLEASE NOTE in case of defective discs, mis-shipments or for any reason, we may need the original item back to issue a replacement. You, the buyer, agree to return the item if we request - at our cost - in order to get a replacement.
-POSTERS are gone for this title
.

This release is 
on professionally b
urned and labeled 
BD
-R'
s
,
 and is 
limited to
 200 units ever. 
Order now or risk missing out!


PLEASE FOLLOW OUR PATREON
PLEASE LIKE AND FOLLOW US ON SOCIAL MEDIA
SRS Cinema LLC
tiktok.com/@srscinemallc
snapchat.com/add/srscinema