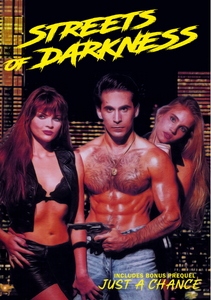 Streets of Darkness Blu-ray, includes short/prequel "Just a Chance"
Regular price $39.95 $24.95 Sale
NOW SHIPPING!
The hard-hitting and often brutal story of Danny (Vincent LaRusso), a young Mafia assassin raised on the violent streets, who travels through a Miami underworld filled with greed, sex, drug deals, beautiful women, mafia, mob violence and betrayal.  The tough, ruthless ex-gang member went to prison for shooting the gang leader who killed his sister and best friend. Now out, he is treated with "a lot more respect" by the Mafia who try to lure him into their world.  However, Danny vows to "do the right thing" and turn his life around. But little does he know, his life will take an unexpected turn back into the underworld of violence and drugs he once knew. This will be a dark and intense journey he will not soon ever forget.
Extras:
-Short/Prequel "Just a Chance", Directed by Bill Grefe!
-Commentary tracks
-Interviews
-Trailers
-SRS Trailers
-And more!
"Just A Chance" is an inspiring true story about the dangers of gang violence and drugs. Vincent LaRusso stars as Danny, being interviewed by a newspaper reporter while serving time in prison. He reveals the tragic, hard-hitting and often brutal story of his descent into a life of drugs and crime, and the point he turned it all around. Directed Bill Grefe ("Mako: The Jaws of Death")!
-PLEASE note the expected shipping estimate before emailing us about the status of your order.
-COMBO order save money but will not ship until all items are in stock.
-PRE-ORDERS can NOT be cancelled once placed due to our fulfillment system.
-PLEASE NOTE in case of defective discs, mis-shipments or for any reason, we may need the original item back to issue a replacement. You, the buyer, agree to return the item if we request - at our cost - in order to get a replacement.
-POSTERS when applicable are provided free of charge. They are not replaced due to damage or if missing. They can run out without warning. Poster is shipped folded with the media, however you can get it sent rolled in a tube (or shipped rolled in a large box at our discretion) by selecting it from the dr
op down menu.


Pre-sales start 
Thursday 10
/
27
/22 7pm EST and will show as sold out until then. Copies are expected to ship around late
 Feb. 
2023. 


This release is on professionally burned and labeled BD-R's, and is limited to 200 units ever.
PLEASE FOLLOW OUR PATREON
PLEASE LIKE AND FOLLOW US ON SOCIAL MEDIA
SRS Cinema LLC
tiktok.com/@srscinemallc
snapchat.com/add/srscinema