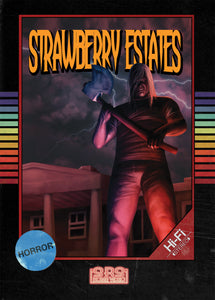 Strawberry Estates Retro DVD Release
Regular price $14.95 $9.95 Sale
This tape is intended for F.B.I. officials only. Possession by non-authorized personnel is prohibited. Red File 66-095: Strawberry Estates For Authorized Eyes Only

In Nov. of 1999, a parapsychology professor, his students and a disturbed psychic lock themselves in the haunted Smith Garrett Building - known as the "Strawberry Estates" - in the hopes of documenting supernatural occurrences. While there, the quartet discuss philosophy and the nature of existence before finally getting the proof that they were searching for. They were never seen again and this footage - appropriated by the F.B.I. for their "Red Files" archive - is all that remains of the expedition.

The bonus short on the DVD was shot BEFORE "The Blair Witch Project"!