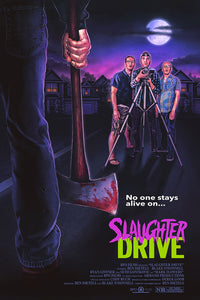 Slaughter Drive DVD
Regular price $24.95 $14.95 Sale
"When failed filmmaker Doug Stevenson leaves his video camera in the local park overnight he accidentally records something horrific. To top it off it might have something to do with his new neighbors that moved into his quiet suburban neighborhood. With the help of his bumbling teacher buddies Doug goes on a wild ride to save himself, his friends, his ex-wife, and the entire neighborhood! Featuring a killer throwback soundtrack and splattery practical FX find out who will stay alive on Slaughter Drive!"
Limited edition DVD-R professional run and silk-screened labeled and packaged by Discmakers, just 50 will be sold.
Presales starting now, expected to start shipping late April 2018. Please note, pre-orders placed can not be cancelled even if there is a delay in shipment (there usually isn't, we're usually ahead of schedule, just sayin').