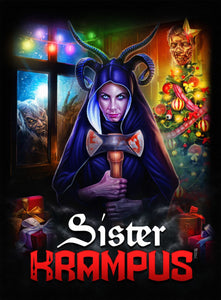 Sister Krampus Blu-ray
Regular price $29.95 $24.95 Sale
This is a PRE-ORDER title. Please note the expected shipping date of  mid-Dec 2021. Then give us about 2 weeks after that to get all pre-orders in the mail. We will not be responding to inquires on order status until 2 weeks after the estimated ship date has passed. Thanks!
Near the end of World War II, American soldiers perpetuate an unspeakable horror on a local nun. Turned away from the church, Krampus hears her cries, enacting brutal revenge… but it comes with a price. 
Decades later, two sisters visiting Europe on Christmas holiday are unexpectedly plunged into the nightmare web of Sister Krampus, bride to the holiday deity. They are aided by a local village woman, and together they venture into the nearby, desolate convent to unlock the secret to stopping the evil spirit once and for all. 
From Mark Polonia!
Extras:
-Commentary Track
-Polonia Trailers
-SRS Trailers
-And more!
1:85:1 (16x9)
77 mins 
2021
Region 0
NTSC
English
Note: We are going to try to have these to everyone (at least within USA) before Christmas. Discs masters have already been sent and posters ordered.

-PLEASE note the expected shipping estimate before emailing us about the status of your order.
-COMBO order save money but will not ship until all items are in stock.
-PRE-ORDERS can NOT be cancelled once placed due to our fulfillment system.
-POSTERS when applicable are provided free of charge. They are not replaced due to damage or if missing. They can run out without warning. Poster is shipped folded with the media, however you can get it sent rolled in a tube (or shipped rolled in a large box at our discretion) HERE. 
Pre-sales start 11/11/21 7pm EST and will show as sold out until then. Copies are expected to ship around mid-Dec 2021. This release is limited to 200 units max on professionally run BD-R's, and all sales will cease by early Jan. 2022.