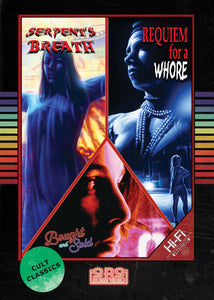 Serpent's Breath/Requiem For A Whore/Bought & Sold DVD
Regular price $14.95 $11.95 Sale
3 From Cult Filmmaker Michael DiPaolo

Bought & Sold - Dostoyevsky meets MTV in BOUGHT & SOLD, the story of a sexually abused runaway (played by Lisa Papineau) who after a life of drugs and prostitution on the streets, finds redemption with the help of a kindly street vendor...only to be killed by the forces of corruption that grip the city. Shot entirely on the streets of New York City with an original score by noted composer, Bobby Previte, BOUGHT & SOLD combines high style with a verity -like feel for the streets and those who live there.

Serpent's Breath - Four stories of love on the edge are woven together by one uncontrollable emotion; desire. The lives of a gangster (played by Caspar Andreasson), looking for love in all the wrong places, an aging porn-queen (played by Amy Wallin), breaking from the hustler (played by Paul Megna), who salvaged her career, a militant lesbian (played by Viva Knievil) leaving her lover (played by Angel Baby), for a man and a desperate loner killing (played by Marc St. Camille) for company, converge in a series of violent crescendos. Ending with a shattering climax inside a high security prison cell, between the Gil, the gay killer and Jack, the homophobic gangster, that only the laws of desire could determine.

Requiem for a Whore - A Dogma 95 film six years before there was such a thing, REQUIEM FOR A WHORE chronicles the last day in the life of a street prostitute (played by Amy Wallin) named Pearl. Bouncing back and forth between her heartless, manipulative pimp and her loving but ineffective boyfriend, Pearl's only solace is the company of her fellow street walkers. But when destiny appears in the form of a kinky, producer of religious TV programming, Pearl's fate is sealed. Shot entirely in the meat packing district of Manhattan, REQUIEM'S dark, gritty images, elegant hand-held camerawork, austere organ score and unflinching point-of-view combine to create a hard-hitting, hyper-realistic drama.