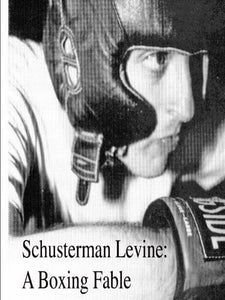 Schusterman Levine: A Boxing Fable
Regular price $19.95 $9.95 Sale
A mock documentary about the worst amateur fighter. Ever.
In the world of Schusterman Levine, life is devoid of purpose until he decides to become an amateur boxer and compete in the 1996 Olympics in Atlanta, Georgia. Training himself, Schusterman attracts the attention of Susan King who, seeing something special in Schusterman, decides to help him on his quest. He rounds out TEAM LEVINE with Armour Swift and Tony Tony. They set out to take on the boxing world. Losing his first bout because his beard is too long, things continue downhill from there. Schusterman gets knocked out when an opponent puts his guard up, complains that another one used "anti-semitic" remarks to beat him, and seems to only win fights when his opponents don't show up.
To compound his poor reputation, whenever Schusterman loses Tony Tony starts fighting anybody near the ring. Encountering more valleys than peaks on his road to Olympic glory, Schusterman trudges along, determined to make something of his life. Just when it seems like things might be looking up for Schusterman Levine, he incurs the wrath of Leviticus Stephens, the President of the United States Amateur Boxing Association. He wants Schusterman banned from the sport. Now the real challenge begins as Schusterman fights to show that he does indeed have a place inside the squared circle. Just when it seems like he's about to take the final ten count, Schusterman shows everyone that he is a true champion.