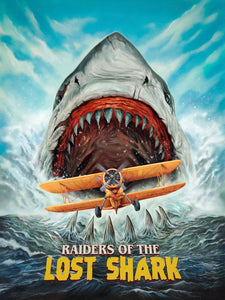 Raiders of the Lost Shark Special Edition Blu-ray
Regular price $29.95 $19.95 Sale
NOW SHIPPING!
A murderous, prehistoric shark is wreaking havoc on local swimmers. A group of college students and their professor trail it to a strange island. It turns out the island is home to a secret military facility that the beast escaped from. There they cross paths with a mad scientist who has genetically engineered the shark so it can fly - and its hunger for humans is growing. The group must work together to battle the ultimate predator hunting them down.
Gray Chance Entertainment presents 
"Raiders of the Lost Shark" 
starring Candice Lidstone, Catherine Mary Clark, Jessica Huether, Pavel Lubanski, Kendra Summerfield and Richard Groen
written by David A Lloyd special make up fx by Genevieve Bigras
produced by Brett Kelly directed by Scott Patrick
Extras:
-New commentary
-Trailer
-Captions
-SRS Trailers
Specs:
16:9
NR
71 mins
NTSC
English
Region 0
-PLEASE note the expected shipping estimate before emailing us about the status of your order.
-COMBO order save money but will not ship until all items are in stock.
-PRE-ORDERS can NOT be cancelled once placed due to our fulfillment system.
-POSTERS when applicable are provided free of charge. They are not replaced due to damage or if missing. They can run out without warning. Poster is shipped folded with the media, however you can get it sent rolled in a tube (or shipped rolled in a large box at our discretion) from the drop down options for $5 more.
This release
is 
limited to 200 units on professionally run BD-R's.


PLEASE FOLLOW OUR PATREON
PLEASE LIKE AND FOLLOW US ON SOCIAL MEDIA
SRS Cinema LLC
tiktok.com/@srscinemallc
snapchat.com/add/srscinema