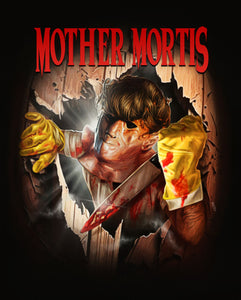 Mother Mortis Blu-ray
Regular price $29.95 $19.95 Sale
NOW SHIPPING
!

Come to Mommy dear, it's time to die!
APOTHEOSIS PRODUCTIONS and SRS CINEMA presents from the deranged mind of writer and director BALRAJ KANG the splattersploitation slasher trash horror gorefest; MOTHER MORTIS!
When deranged and sadistic transvestite serial killer MOTHER MORTIS (played by JAY ADDAMZ) and his satanic cult embark on a rampage of torture, death and bizarre rituals in a bid to summon an interdimensional shit demon to devour this universe, only a rag-tag group of survivors can save us from eternal defecation!
Led by none other than NOMI LUCIEN (played by HOLLY LAURA PLATT) the sister of MOTHER MORTIS, together can our unlikely band of misfits put a stop to MOTHER MORTIS and her murderous reign of death, depravity and terror
Extras
-Commentary
-Interviews with Balraj Kang
-"Mother Mortis v Slutty the Clown in Space" short featurette
-Trailer
-Fan Art
-SRS Trailers

-PLEASE note the expected shipping estimate before emailing us about the status of your order.
-COMBO order save money but will not ship until all items are in stock.
-PRE-ORDERS can NOT be cancelled once placed due to our fulfillment system.
-PLEASE NOTE in case of defective discs, mis-shipments or for any reason, we may need the original item back to issue a replacement. You, the buyer, agree to return the item if we request - at our cost - in order to get a replacement.
-POSTERS when applicable are provided free of charge. They are not replaced due to damage or if missing. They can run out without warning. Poster is shipped folded with the media, however you can get it sent rolled in a tube (or shipped rolled in a large
r
 box
,
 at our discretion) by selecting it from the dr
op down menu. If you order the rolled poster option for one title, then we will include up to 3 more rolled posters free of charge, as poster stock permits, with priority given to the newest titles. If you order multiple rolled posters, then we will ship them individually rolled (no refunds if you order multiple rolled posters). 


LIMITED EDITION, JUST 100 UNITS EVER!



This release is 
on professionally b
urned and labeled 
BD
-R'
s
,
 and is 
limited to
 100 units ever. 
Order now or risk missing out!