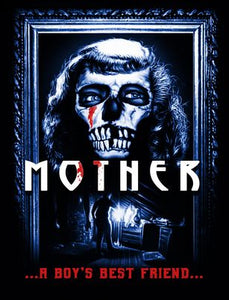 Mother Blu-ray
Regular price $29.95 $24.95 Sale
A boy's best friend is his Mother…

two Sacred Monsters…one desolate farmhouse…
Lost in Eisenhower's America…
a compassionate tale of unreasoning rage…
a Surrealist Docudrama…in grainy
Black & White…No dialogue…
only dissonant strings & Russian voices…
cries lost in the heavens…
a descent into madness… Lucifer's lonely man…
adrift amidst the century's underside…
an Oedipal/Transvestite/Nazi/Cannibal…
a White Trash Tragedy…a DiPaolo Moving Picture…
~MOTHER~
"…a stark, unsettling, altogether unpleasant glimpse into murderous dementia and one seriously fucked up family."
"…raw, hand-held, experimental, and steeped in family fueled sickness, DiPaolo gets points for maintaining such an unwavering sour vision.  The lack of dialogue and jarring sound design gives this tale an effectively eerie edge…"
Steve Puchalski SHOCK CINEMA number 32
Extras:

-Commentary
-Making of
-Trailer
-SRS Trailers

-PLEASE note the expected shipping estimate before emailing us about the status of your order.
-COMBO order save money but will not ship until all items are in stock.
-PRE-ORDERS can NOT be cancelled once placed due to our fulfillment system.

Professionally run BD-R's.