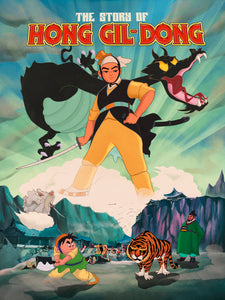 Story of Hong Gil-Dong, The Blu-ray
Regular price $29.95 $24.95 Sale
Adapted from Hong Gildong Jeon, a classic Korean novel written during the Joseon Dynasty, "The Story of Hong Gil-dong" follows the illegitimate son of a nobleman, banished from his family due to the predictions of a fake prophecy. Out of his home, Hong Gil-dong witnesses first hand the injustices of society. Along with his sidekick Chadol Bawi, the pair steal from a corrupt Magistrate and return the money to the poor. But when the Magistrate brings in more forces, Hong Gil-dong must retreat to the mountains and train under a wise wizard. His sanity is put to the test through strange hallucinations and vigorous training, but years later he emerges to rally the local rebels in an attempt to unseat the corrupt aristocrates. But with the Magistrate having grown even more powerful, will Hong Gil-dong and his band of merry men be able to save his father and all of Korea?

South Korea's first ever animated feature, this epic adventure has been remastered and released for the first time ever in North America!

67 mins | 1967 |Color
Extras:
-Korean with English Subtitles
-Article - Hong Gil-Dong: The History Behind Korea's Old Fable by Eugene Alejandro
-Trailer
-SRS Trailers

-PLEASE note the expected shipping estimate before emailing us about the status of your order.
-COMBO order save money but will not ship until all items are in stock.
-PRE-ORDERS can NOT be cancelled once placed due to our fulfillment system.
-PLEASE NOTE in case of defective discs, mis-shipments or for any reason, we may need the original item back to issue a replacement. You, the buyer, agree to return the item if we request - at our cost - in order to get a replacement.
-POSTERS when applicable are provided free of charge. They are not replaced due to damage or if missing. They can run out without warning. Poster is shipped folded with the media, however you can get it sent rolled in a tube (or shipped rolled in a larger box, at our discretion) by selecting it from the drop down menu. If you order the rolled poster option for one title, then we will include up to 3 more rolled posters free of charge, as poster stock permits, with priority given to the newest titles. If you order multiple rolled posters, then we will ship them individually rolled (no refunds if you order multiple rolled posters). 
Hong Gil-Dong is limited to 1000 pressed blu-ray units.
Be sure to like and follow us on social media!

Join my Patreon! 
patreon.com/ronbonk
facebook.com/srscinemallc/
twitter.com/srscinema
youtube.com/c/SRSCinemaLLC
snapchat.com/add/srscinema
reddit.com/r/srscinemallc/