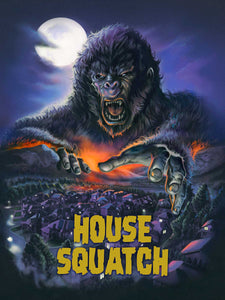 House Squatch Blu-ray
Regular price $29.95 $19.95 Sale
NOW SHIPPING!
The legend comes to a home near you! The small town of Shadyville is plagued by sightings of a hairy creature known as the "House Squatch". Locals are panicked and the area's powerful real estate firm is pressuring the local sheriff to stop the creature, who has taken up residence in one of their homes for sale. It's a battle of wits and wackiness as the town mobilizes to drive the creature back to the forest. 
Tentative Extras:
-Director's Commentary
-Trailer
-SRS Trailers
-Captions
SRS Cinema LLC presents a Polonia Bros. Production
HOUSE SQUATCH
Starring Tim Hatch, Ken VanSant, Jeff Kirkendall, Titus Himmelberger, Jamie Morgan, Yolie Canales. Director of Photography Paul Alan Steele. Screenplay Aaron Drake. Location Manager Alan Wyoming. Make-up and Effects Royce Callings. Editor Mark Polonia. Music by G H O S T . Costumes by Amy Suzuki. Produced by Ron Bonk. Written and Directed by Anthony and Mark Polonia.
Specs: 
71 minutes
COLOR
16:9
2022
English
Region 0
"House Squatch" is the latest effort from Mark Polonia, again teaming with his son Anthony (a b-movie talent to watch, and ready to inherit his dad's and uncle's legacy) as well as his band of regulars. It is a fun mixture of laughs and chills, and the first in our series of "House" meets "Monster themed movies follow our hugely successful "House Shark" movie. Please order early, and then SHARE to support! Thank you!
-PLEASE note the expected shipping estimate before emailing us about the status of your order.
-COMBO order save money but will not ship until all items are in stock.
-PRE-ORDERS can NOT be cancelled once placed due to our fulfillment system.
-POSTERS when applicable are provided free of charge. They are not replaced due to damage or if missing. They can run out without warning. Poster is shipped folded with the media, however you can get it sent rolled in a tube (or shipped rolled in a large box at our discretion) 
from drop down. For combo orders, you only need to order poster rolled once for all 
posters (available) to be rolled within order.
This release is limited to 300 units on professionally run BD-R's. 

PLEASE FOLLOW OUR PATREON
PLEASE LIKE AND FOLLOW US ON SOCIAL MEDIA
SRS Cinema LLC
tiktok.com/@srscinemallc
snapchat.com/add/srscinema