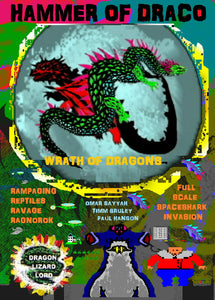 Hammer of Draco: Wrath of Dragons DVD
Regular price $19.95 $14.95 Sale
Now shipping, however inventory is limited and there may be delays of 2-3 weeks if title is restocking.
The animated sequel to "Dragon Lizard Lord Super Monsters"! Space Sharks invade the Earth and flood the planet for the fish. Alien Grime merges with technology to make a giant robot targeting all volcanoes to erupt and flood the planet with magma. Dragon Lizard Lords are enraged and rampage through New York,  Cleveland and Tokyo. Humans decide to destroy the planet with nuclear weapons thereby wiping out all factions, but Omega Tiamat Odin and Draco Quetzalcoatl have other perils in store for the planet.
Extras:
-Feature Commentary
-Original Trailer
-Dragon Trailer
-SRS Trailers
-and more!
There is no poster for this title, so please do not add the rolled poster option.

Be sure to like and follow us on social media!
SRS Cinema LLC
tiktok.com/@srscinemallc
snapchat.com/add/srscinema