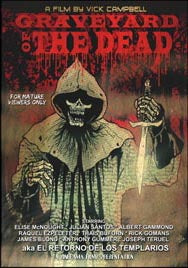 Graveyard of the Dead DVD
Regular price $24.95 $19.95 Sale
EL RETORNO DE LOS TEMPLARIOS
(aka Graveyard of the dead)
"Just when you thought the Blind Dead Templars had been buried forever, they once again rise from their rotted tombs and wreak havoc out in the Spanish campo. The gore effects are plentiful with disembowellings, dismemberment and naked whippings by the bucket-load" Is it Uncut? Magazine?
This is the first in a new range of films on the Sinerama Films showcases movies that don?t fit into the Teraz Films extreme erotic horror genre and fall more into the catagory of horror. This subsiduary label will feature new, old, obscure and low budget films made by directors that don?t work under the Teraz Films umbrella.

The first film released is Spanish director Vick Campbells 2009 hommage to the Blind Dead films of the great Amando de Ossorio.
Synopsis:
Buitrago (Soria), 1976. Jorge arrives in search of his sister, Miranda, and the people of the area beware him about the evil nature of the place. In the same place, in 1310, the templars are the masters of life and death, killing virgins in an attempt to fulfil their eternal life purposes. In 1976 again, Jorge finds Miranda, but she



seems to have

 

 

l

os

t he

r

mind, and

she finally runs away. A few days before, Miranda, in her house, is sexually harassed by her father and mistreated by her authoritarian mother, until she locks off in her room. Back in hte Middle age, the templars caught a young girl who looks a lot like Miranda, and when she is about to be sacrificed, a group of villagers kills the templars, hanging their leader. But, before dying, she swears to come back..

.
 
The DVD comes with a double side cover, one features the original artwork with English title and the other

features a more spicy cover art with the alternative Spanish title?

El Retorno de los Templarios

.
Lang: Spanish (w/ English subs)
Ratio: Widescreen
Extras: Behind the scene Gallery. Short bonus film clip, Babes and Templars Gallery, Trailer for Mark of the Whip 2.