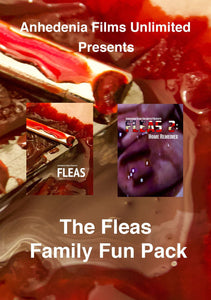 Fleas Family Funpack
Regular price $29.95 $9.95 Sale
For the first time ever own one of the most gruesome, double disc, film series ever created!

FLEAS An entomologist (Michael J. Vogelsang) is enjoying the seclusion that he needs as he researches a new species of insect. While away, the strains of family life start to pull at him. His problems are compounded when his benefactor voices some concerns regarding the direction of the insect research that he is doing. Lastly, things take an even darker turn when he starts being eaten alive by a mass of fleas. Taking matters into his own hands, the entomologist decides that the only way to combat everything is to cut the flea bites from his skin... and then amputate his leg.

FLEAS 2: HOME REMEDIES Quinton (Mike Hartsfield, The DEATH TOILET Franchise) and Bob (Evan Jacobs, director of the original FLEAS) are two lovable losers who get more than they bargain for when a home remedy goes wrong. After injuring himself while trying to fix an ingrown toenail, Quinton becomes convinced that he needs to do a lot more "surgery" on his toe. Amidst a lot of arguing, eating and other tomfoolery, Quinton eventually decides that the best way to remedy the situation is to amputate his foot.