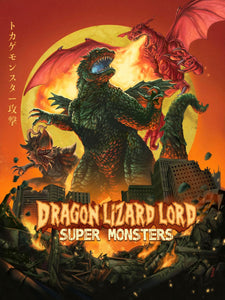 Dragon Lizard Lord Super Monsters DVD
Regular price $19.95 $14.95 Sale
Now shipping, however inventory is limited and there may be delays of 2-3 weeks if title is restocking.
Ancient Dragons battle for dominance and desolate civilization. Dragon's thralls and Angels one up each other to be empowered by the Dragon Gods. Omega Tiamat Odin has awakened to wreak havoc across the planet in Tokusatsu terror! Tiamat stomps Tokyo and New York, Draco Quetzalcoatl hits Osaka. Hong Kong feels the power of King Fafnir as Zearon Nidhogg ascends from a UFO that pushes alien technology on the Earth defense forces creating a mad robot.
Extras:
-Feature Commentary
-Deleted Scene
-Trailer
-Hammer Sequel Trailer
-Deleted Scene
-Slideshow
-SRS Trailers
-and more!

There is no poster for this title, so please do not add the rolled poster option.
Be sure to like and follow us on social media!
SRS Cinema LLC
tiktok.com/@srscinemallc
snapchat.com/add/srscinema