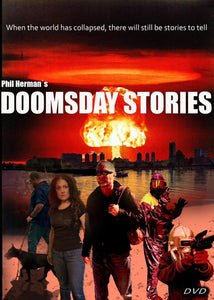 Doomsday Stories DVD
Regular price $29.95 $19.95 Sale
From Phil Herman! In 1992, a virus called "Meanies" pretty much wiped out mankind. Only 8,000 people survived worldwide.
"Meanies" was a man-made virus originally meant to help cure people, but instead it created ravenous mutants hellbent on exterminating humanity. 
One man, Zorack, survived that hell on Earth. 30 years later, and still alive, Zorack is sharing stories from the old world...
Add the documentary for even more bonus content!
Starring

Debbie D Debbie D ... Katrina
Tim Hatch Tim Hatch ... James Hope
Joel D. Wynkoop Joel D. Wynkoop ... James Kirk
Lillian Lamour Lillian Lamour ... Isabella
Kimberly Lynn Cole Kimberly Lynn Cole ... Linda
M. Catherine Wynkoop M. Catherine Wynkoop ... Dana Kirk
Constance Payne Constance Payne ... Kate
Joe DeBartolo Joe DeBartolo ... John
Michael Moutsatsos Michael Moutsatsos ... Narrator
Jaysen P. Buterin Jaysen P. Buterin ... TV Announcer
Joe Rosing Joe Rosing ... Vince
Andre Boyd Andre Boyd ... Sam
Phil Herman Phil Herman ... Zorack
Will Devokees Will Devokees ... End Narrator
Alba O'Neill Alba O'Neill ... Kelly
Blaize Tudor Blaize Tudor ... Playground victim
Nina Trader Nina Trader ... Carly
Darin Bowman Darin Bowman ... Stan
Justin Bower Justin Bower ... Rick
Jimmy Shay Jimmy Shay ... Jake
Jim Ewald Jim Ewald ... Alvin
Joshua Coughlin Joshua Coughlin ... Government Official / Meanie
Chandra Mouli Nandy Chandra Mouli Nandy ... Frank 21
Heather Carson Heather Carson ... The President
Carl J Grasso Carl J Grasso ... Frank
Penelope Malloy Penelope Malloy ... Grace
Bryant Sohl Bryant Sohl ... Roy
Lucy Lucy ... Lucy the Dog
Courtney Williams Courtney Williams ... Tony
Jake Scozzaro Jake Scozzaro ... Dean Taylor