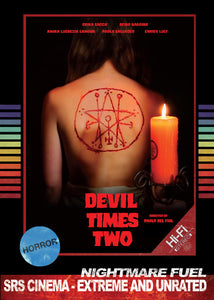 Devil Times Two Retro Nightmare Fuel DVD
Regular price $14.95 $9.95 Sale
Lost for decades, highly sought after by fans the world over, the 70's horror movie "Devil Times Two" has been found on a VHS recording from its one time TV broadcast.

"The late 1970's, in a convent near Milan, mysterious murders are believed to be connected to the Devil himself. Exorcists are sent in to investigate, and soon discover that the perpetrators are two 'Returnees' - damned souls who have escaped from the Gates of Hell. It will be a brutal and gore-soaked battle when good tries to expel evil back to the depths from whence it came!"

See the movie as it was broadcast on that one night, before the print was lost forever, in this presentation from Telelaguna and SRS Cinema in this first ever crossover Retro / Nightmare Fuel Release!