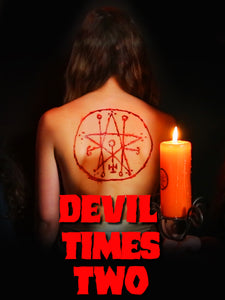 Devil Times Two Blu-ray
Regular price $29.95 $19.95 Sale
Now shipping (original estimate was late May 2023, please give us until mid-June to get all pre-orders out).
Lost for decades, highly sought after by fans the world over, the 70's horror movie "Devil Times Two" has been found on a VHS recording from its one time TV broadcast. 
"The late 1970's, in a convent near Milan, mysterious murders are believed to be connected to the Devil himself. Exorcists are sent in to investigate, and soon discover that the perpetrators are two 'Returnees' - damned souls who have escaped from the Gates of Hell. It will be a brutal and gore-soaked battle when good tries to expel evil back to the depths from whence it came!"
See the movie as it was broadcast on that one night, before the print was lost forever, in this presentation from Telelaguna and SRS Cinema in this first ever crossover Retro / Nightmare Fuel Release!
Extras
-Backstage
-Photo Gallery
-Trailer
-English subtitles
-SRS Trailers


-PLEASE note the expected shipping estimate before emailing us about the status of your order.
-COMBO order save money but will not ship until all items are in stock.
-PRE-ORDERS can NOT be cancelled once placed due to our fulfillment system.
-PLEASE NOTE in case of defective discs, mis-shipments or for any reason, we may need the original item back to issue a replacement. You, the buyer, agree to return the item if we request - at our cost - in order to get a replacement.
-POSTERS when applicable are provided free of charge. They are not replaced due to damage or if missing. They can run out without warning. Poster is shipped folded with the media, however you can get it sent rolled in a tube (or shipped rolled in a large box at our discretion) by selecting it from the dr
op down menu.
This release is 
on professionally b
urned and labeled 
BD
-R'
s
,
 and is 
limited to
 100 units ever. 
Order now or risk missing out!


PLEASE FOLLOW OUR PATREON
PLEASE LIKE AND FOLLOW US ON SOCIAL MEDIA
SRS Cinema LLC
tiktok.com/@srscinemallc
snapchat.com/add/srscinema