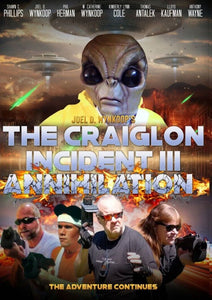 Craiglon Incident III, The, DVD
Regular price $29.95 $19.95 Sale
Our heroes are still battling the Cromlee in THE CRAIGLON INCIDENT III ANNIHILATIONCAN THREE BUMBLING, IDIOT STOOGES SAVE THE EARTH?  CAN THEY SAVE ALL THE EARTH'S? 
WAIT A MINUTE...EARTH'S?  WHAT'S GOING ON HERE?
The latest flick from Joel D. Wynkoop that's what.
Dawes (Phil Herman Jacker 2, Burglar from Hell), Emile (Shawn C. Phillips Girls Gone Dead, Ghost Shark), Emma (M. Catherine Wynkoop Inheritance, The Bite) and Parsons (Joel D. Wynkoop Creep, Lost Faith) have fought the alien Cromlee to a standstill.  Parsons has been to the future and seen what the Cromlee have done to his earth.  The four heroes have banned together along with their counterparts to battle the alien known as the Cromlee.  In the third exciting chapter of The Craiglon Incident we see the multiverse, not just one earth but 100's of them.
Our heroes are joined by Sing-Dom, Commander Power, Major Tom, Dan Hess, Nick Hazzard, Tie-Ree, Cope Ransom, Ryan Craig and Steve Nekoda as they all battle to save our earth's.  Time travel, Space travel, Counterparts, the multiverse, Laser Blasts. Aliens, Spaceships, Plenty of Sci-Fi and action in this flick.  Added guest stars: Lloyd (Troma Entertainment) Kaufman and WWE super star Alex (The Pug) Pourteau, William D. Horton, Zachary Keane, Kyle Rappaport, Dean Houlihan, Michael D. Pelaez, Ken Anthony II, Werner Jauch, Jason Liquori, Walter Maseda and so many more.  Join us for the greatest action, sci-fi, time travel movie trilogy since Back to the Future.
"THE CRAIGLON INCIDENT III ANNIHILATION - Is it a sci-fi?  A Comedy?  An Adventure?  You be the judge!