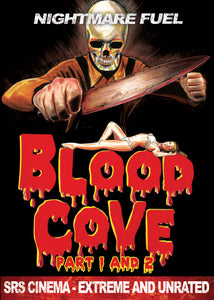 Blood Cove & Blood Cove 2: Return Of The Skull DVD
Regular price $14.95 $9.95 Sale
From SRS Cinema's "Nightmare Fuel" line - movies too extreme!

Blood Cove - Deep in the swamplands of Beansboro, Indiana... a killer waits. And when a young reporter on vacation, Joanie Craven (Katie Harbridge), goes missing, it's up to skeptical police chief Greg Fontana (Jeff Angel) and Joanie's father Michael (Deron Morgan) to find her and bring an end to the infamous "Skull's" reign of terror, which has lasted decades. Despite warnings from local town historian Walt Caruthers (George Stover), no one in the town believes the mysterious deaths are truly the work of the Skull, but he knows the truth. And he knows more blood will be shed before Fontana and Michael can find Joanie. But will she still be alive?

Blood Cove 2: Return of the Skull- In the sleepy town of Beansboro, Indiana, a killer is about to strike again. Despite the best efforts from local authorities six months earlier, it appears the Skull was not destroyed in the haunted house fire as believed. Now the bloodthirsty maniac has set his sights on revenge - and the peaceful community is about to become the devil's playground. Only Det. Dan Lockwood (Mark Dessauer) and his daughter Brooke (Autumn Hall) stand in the way of the masked madman's killing spree.