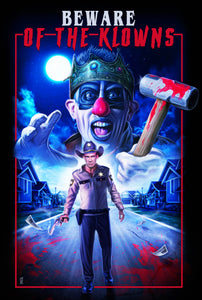 Beware of the Klowns Blu-ray
Regular price $29.95 $19.95 Sale
Now shipping!
In Santa Mira, There's a dark past causing a law against clowns. But now, after years of peace, a murder reveals a new threat. The only one who can stop it is the brave sheriff. The Sheriff is forced to protect the town and his twins, Joy and Lisa, from the terror that is the Klown King and his cult, The Klowns.
Extras (tentative):
-Commentary track
-Concept Art
-Trailers
-Bloopers
-Slideshow
-SRS Trailers

-PLEASE note the expected shipping estimate before emailing us about the status of your order.
-COMBO order save money but will not ship until all items are in stock.
-PRE-ORDERS can NOT be cancelled once placed due to our fulfillment system.