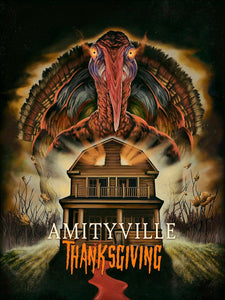 Amityville Thanksgiving Blu-ray
Regular price $29.95 $19.95 Sale
NOW SHIPPING!
Jackie (Natalie Peri) and Danny (Paul Faggione) are spending the holiday week in therapy instead of at the dinner table. Their marriage has taken a turn for the worst, and they turn to what they believe to be their only option, Amityville Couples Counselor Frank Domonico (Mark C Fullhardt), a doctor with a hidden, sinister past. He recommends an isolated cabin retreat to save their family. But once alone together, the doctor's unorthodox approach starts to push the couple over the edge. Strange visitors, visions, and occult items haunt their stay, coming to peak on Thanksgiving Day. Little do they know that the doctor plans to end their sessions, as well as their lives, with a devilish dinner, and them as the main course! 
PR by Avery Guerra
Specs
16:9
73 mins
Color
English
Region 0
Extras:
-Commentary
-Interview with Lead Actor
-Captions
-Trailer
-SRS Trailers


-PLEASE note the expected shipping estimate before emailing us about the status of your order.
-COMBO order save money but will not ship until all items are in stock.
-PRE-ORDERS can NOT be cancelled once placed due to our fulfillment system.
-POSTERS when applicable are provided free of charge. They are not replaced due to damage or if missing. They can run out without warning. Poster is shipped folded with the media, however you can get it sent rolled in a tube (or shipped rolled in a large box at our discretion) by selecting it from the drop down menu.
This release is 
on professionally replicated BD-R's
,
 and is 
limited to 1
00 units on professionally run BD-R's.


PLEASE FOLLOW OUR PATREON
PLEASE LIKE AND FOLLOW US ON SOCIAL MEDIA
SRS Cinema LLC
tiktok.com/@srscinemallc
snapchat.com/add/srscinema