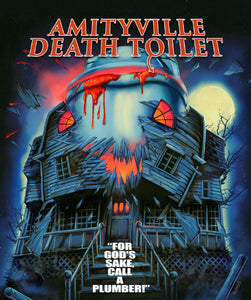 Amityville Death Toilet Blu-ray
Regular price $29.95 $19.95 Sale
This is a PRE-ORDER title and will show as sold out until Thursday, 01/05/23 at 7pm EST. Please note the expected shipping date of late March 2023. Then give us about 2 weeks after that to get all pre-orders in the mail. We will not be responding to inquires on order status until 2 weeks after the estimated ship date has passed. Thanks!
Gregg G. Allin (Isaac Golub) has a semi-successful podcast exploring paranormal events. When Amityville is overrun with a spate of toilet murders leading back to the haunted house of yesteryear, Gregg wastes no time flying into town to get some answers. With Amityville's Mayor Dump (Roy Englebrecht, Celebrity Boxing) demanding answers and an end to the killings, Gregg is perplexed because this Amityville house doesn't seem to be that scary. Looks are very deceiving, and, after a toilet in the house mutilates Sebastian the caretaker, Gregg is forced to act. What ensues is a battle like no other where Gregg is pushed to the very limits of hell and beyond in an effort to save the town… and the world!
Extras
-Commentary
-Making of
-Trailer
-SRS Trailers
-PLEASE note the expected shipping estimate before emailing us about the status of your order.
-COMBO order save money but will not ship until all items are in stock.
-PRE-ORDERS can NOT be cancelled once placed due to our fulfillment system.
-PLEASE NOTE in case of defective discs, mis-shipments or for any reason, we may need the original item back to issue a replacement. You, the buyer, agree to return the item if we request - at our cost - in order to get a replacement.
-POSTERS when applicable are provided free of charge. They are not replaced due to damage or if missing. They can run out without warning. Poster is shipped folded with the media, however you can get it sent rolled in a tube (or shipped rolled in a large box at our discretion) by selecting it from the dr
op down menu.


Pre-sales start 
Thursday 01
/
05
/23 7pm EST and will show as sold out until then. Copies are expected to ship around late
 March 
2023.  
This release is 
on professionally run BD-R
'
s
,
 and is 
limited to
 200 units ever.


PLEASE FOLLOW OUR PATREON
PLEASE LIKE AND FOLLOW US ON SOCIAL MEDIA
SRS Cinema LLC
tiktok.com/@srscinemallc
snapchat.com/add/srscinema