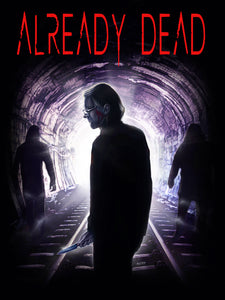 Already Dead blu-ray
Regular price $29.95 $19.95 Sale
Now shipping!
Virginia, a lawyer's secretary, is trapped in her daily routine: subway, work, sleep. But one night on the way home, she is sexually assaulted. She falls into a pit of darkness and despair. But soon she emerges, filled with rage, enacting brutal, violent, blood soaked revenge on any man in her path. But amidst her carnage, someone has taken notice. He follows and documents her vengeance. Will he turn her in, or does he want something else, something more? And what will Virginia do to him when their destinies finally cross?
Written and Directed by Raphaël Desbordes 
Extras
-Commentary
-Making Of
-Trailer
-Subtitles in several languages - Spanish, French, Italian, Japanese, German and more.
-SRS Trailers
-And More!

-PLEASE note the expected shipping estimate before emailing us about the status of your order.
-COMBO order save money but will not ship until all items are in stock.
-PRE-ORDERS can NOT be cancelled once placed due to our fulfillment system.
-PLEASE NOTE in case of defective discs, mis-shipments or for any reason, we may need the original item back to issue a replacement. You, the buyer, agree to return the item if we request - at our cost - in order to get a replacement.
-POSTERS when applicable are provided free of charge. They are not replaced due to damage or if missing. They can run out without warning. Poster is shipped folded with the media, however you can get it sent rolled in a tube (or shipped rolled in a large box at our discretion) by selecting it from the drop down menu.
This release is 
on professionally b
urned and labeled 
BD
-R'
s
,
 and is 
limited to
 100 units ever. 
Order now or risk missing out!


PLEASE FOLLOW OUR PATREON
PLEASE LIKE AND FOLLOW US ON SOCIAL MEDIA
SRS Cinema LLC
tiktok.com/@srscinemallc
snapchat.com/add/srscinema