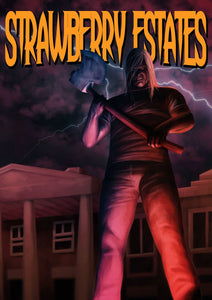 Strawberry Estates Bluray
Regular price $29.95 $24.95 Sale
This tape is intended for F.B.I. officials only. Possession by non-authorized personnel is prohibited. Red File 66-095: Strawberry Estates For Authorized Eyes Only
In Nov. of 1999, a parapsychology professor, his students and a disturbed psychic lock themselves in the haunted Smith Garrett Building – known as the "Strawberry Estates" – in the hopes of documenting supernatural occurrences. While there, the quartet discuss philosophy and the nature of existence before finally getting the proof that they were searching for. They were never seen again and this footage – appropriated by the F.B.I. for their "Red Files" archive – is all that remains of the expedition.
"There are moments at the end that simply send electric chills up the spine." - Film Threat
"A story better described as The Haunting (or perhaps given its fixation with flame-haired femmes, The Legend of Hell House) with a third act detour into Lucio Fulci territory."- Mondo Digital
The release includes an all-new commentary track, new transfer and all new artwork. Additional extras from the prior out of print will be included as space permits, including bonus shorts.
NOW SHIPPING. Limited edition, only 100 will be sold ever on Bluray.