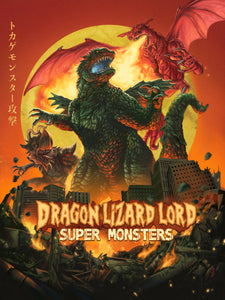 Dragon Lizard Lord Super Monsters Blu-ray
Regular price $29.95 $19.95 Sale
Now shipping!
Ancient Dragons battle for dominance and desolate civilization. Dragon's thralls and Angels one up each other to be empowered by the Dragon Gods. Omega Tiamat Odin has awakened to wreak havoc across the planet in Tokusatsu terror! Tiamat stomps Tokyo and New York, Draco Quetzalcoatl hits Osaka. Hong Kong feels the power of King Fafnir as Zearon Nidhogg ascends from a UFO that pushes alien technology on the Earth defense forces creating a mad robot.
SRS believes this to be the first (and only) true Kaiju movie shot on video (SOV)! Live action/suitamation.
Includes the animated sequel "Hammer of Draco Wrath of Dragons" - Space Sharks invade the Earth and flood the planet for the fish. Alien Grime merges with technology to make a giant robot targeting all volcanoes to erupt and flood the planet with magma. Dragon Lizard Lords are enraged and rampage through New York,  Cleveland and Tokyo. Humans decide to destroy the planet with nuclear weapons thereby wiping out all factions, but Omega Tiamat Odin and Draco Quetzalcoatl have other perils in store for the planet.
Extras:
-Full length SOV movie
-Full length animated sequel
-Feature Commentary
-Sequel Commentary
-Deleted Scene
-Making of
-Music Video
-Original Trailers
-SRS Trailers


-PLEASE note the expected shipping estimate before emailing us about the status of your order.
-COMBO order save money but will not ship until all items are in stock.
-PRE-ORDERS can NOT be cancelled once placed due to our fulfillment system.
-POSTERS when applicable are provided free of charge. They are not replaced due to damage or if missing. They can run out without warning. Poster is shipped folded with the media, however you can get it sent rolled in a tube (or shipped rolled in a large box at our discretion) HERE. 
This release is 
on professionally replicated BD-R's
,
 limited to 200 units on professionally run BD-R's.


PLEASE FOLLOW OUR PATREON
PLEASE LIKE AND FOLLOW US ON SOCIAL MEDIA
SRS Cinema LLC
tiktok.com/@srscinemallc
snapchat.com/add/srscinema