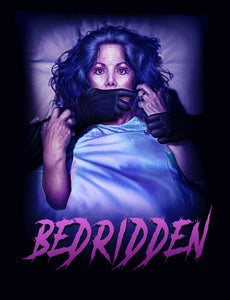 Bedridden Blu-ray
Regular price $29.95 $19.95 Sale
NOW SHIPPING!
"Bedridden will have you crying into your pillow and hiding under your blanket at the same time." - Michael Therkelsen, Horror Society
On the evening of their anniversary, Ray is attacked and murdered by a masked assailant in a desolate motel room while his wife, Teri, is forced to watch. Teri now faces the reality of rebuilding her life as a single mom without her beloved husband. Desperate to communicate one last time with Ray, she uses a mysterious ouija board to try to reach out to the other side. Doing so opens up a portal that puts her and her daughter's lives in danger. When her worst fears seemingly come true, Teri finds herself bedridden and trapped in a cat-and-mouse game of life and death.
Tentative Extras:
-Commentary
-Documentary
-Composer Documentary
-Deleted Scenes
-Zoom Readthrough
-Trailers
-SRS Trailers
-And More!
-PLEASE note the expected shipping estimate before emailing us about the status of your order.
-COMBO order save money but will not ship until all items are in stock.
-PRE-ORDERS can NOT be cancelled once placed due to our fulfillment system.
-PLEASE NOTE in case of defective discs, mis-shipments or for any reason, we may need the original item back to issue a replacement. You, the buyer, agree to return the item if we request - at our cost - in order to get a replacement.
-POSTERS when applicable are provided free of charge. They are not replaced due to damage or if missing. They can run out without warning. Poster is shipped folded with the media, however you can get it sent rolled in a tube (or shipped rolled in a large box at our discretion) by selecting it from the dr
op down menu.


This release is on professionally burned and labeled BD-R's, and is limited to 100 units ever.  Order now or risk missing out!


PLEASE FOLLOW OUR PATREON
PLEASE LIKE AND FOLLOW US ON SOCIAL MEDIA
SRS Cinema LLC
tiktok.com/@srscinemallc
snapchat.com/add/srscinema